More than what you ever wanted to know about Dan Schafer
Dan was raised and taught to play and sing in a small town, 12 miles west of Mount Pleasant, Michigan. His father had him singing on his local radio show & performing at Jamborees before Dan can remember. After learning to play guitar, Dan played with his Mother & Father in honky-tonks til he was in his teens. One place was 'Palmer's Idle Hour Bar' in Weidman, Michigan. He played with a number of Rock & Roll Bands such as the Bark of Paper Mulberry and the Wild West Show . After graduating from Beal City High School, he moved to Detroit to pursue his first love, "MUSIC". He auditioned for the 'Grand Band' and got the job moving Dan to Detroit. After working with a number of Motor City celebrities including Moonstone and Skip Van Winkle (#22 Billboard 10/17/70 "God, Love, and Rock & Roll) Dan landed himself a recording contract with R.C.A. Records that lasted for two years, working with producer Jack Richardson (Guess Who, Alice Cooper, Poco) in 1976 recording an original compostion 'A Day without you, dear' and then in 1978 with producer Bruce Goldberg w/executive producer Don Davis (Johnny Taylor, Marilyn McCoo & Billy Davis Jr.) doing the first remake of the Foundations 'Baby, now that I found you' for the RCA Tortoise International label. Also during this time he began singing and producing T.V. and radio commercials for local clients and National companies such as "Dow" and "Kentucky Fried Chicken". Also during this time, he played guitar, pedal steel guitar and sang on records with Marshall Crenshaw, Larry Santos and the Skyliners. After doing all he felt he could accomplish in 8 1/2 years, he moved to Nashville where he played steel guitar for Leroy Van Dyke on the road; Slim Whitman in a video and appeared in the CBS movie "Country Gold" with Loni Anderson, Earl Holliman and Linda Hamilton. During the next couple of years, he made his way into Nashville recording studio's and began singing jingles again for products like "Pepsi" "Vivid" "Dole" "Honda", etc. Also, began to sing backup on the Grand Ole Opry and on cables "The Nashville Network" with artists, Tim Malchak and Ed Bruce. In 1986, Dan was offered to tour with Barbara Mandrell in her "Do-Rite" band. He accepted and was featured in her "Moments" tour and appeared in the CBS "Mandrell Family Christmas Special". Since then he has toured with Lorrie Morgan, Keith Whitley, T. Graham Brown and Shania Twain. Worked 6 years on the Grand Ole Opry playing bass for Jack Greene and was part of the cast of 'Dick Clarks' American Bandstand Classics' Show.

Dan became a Christian in 1986 & has a Bachelor of Arts in Biblcal Studies and Masters of Theology degrees from the Christian Bible College & Seminary; Independence, MO. Also, took 12 courses from the Institute of Jewish-Christian Studies; Dallas, TX.
---
Dan Schafer's Stats and Resume'
Stats:
Eyes-Hazel
Hair-brown
Height-5'10"
Weight-170 lbs.
Musical Gifts-Vocalist, Guitars, Pedal Steel Guitar, Bass Guitar and Vocal Arranging

**Commercials:**
National and/or International:
Kentucky Fried Chicken, Dole, Vivid, Pepsi, Honda
Semi-National and/or Regional:
Sea World, Piggly Wiggly, Circle K, Kwik Sak, Popeyes, Sunbeam Bread, Thunder Roads
Local(TN) Spots:
Empress Chili, Ray Batts, Channel 5, Channel 2, Foodtown-Buyrite, The Tennessean
**Appeared on National television with:**
Shania Twain, Barbara Mandrell, Loni Anderson, Linda Hamilton, Earl Holliman, Slim Whitman, Ed Bruce, Tim Malchak
**Appearances on National Radio and T.V. shows:**
The Tonight Show w/David Letterman, Billboard Music Awards, American Music Awards, Blockbuster Music Awards, Nashville Now, Nashville After Hours, CBS movie "Country Gold", Grand Ole Opry, Barbara Mandrell and Mandrell Sisters Christmas Special
**Appeared on records and/or 'On Stage' with:**
Shania Twain, Barbara Mandrell, Lee Greenwood, Lorrie Morgan, Keith Whitley, Pam Tillis, T. Graham Brown, Tanya Tucker, Leroy Van Dyke, Shelly Mangrum, Johnny Russell, Jack Greene, Ed Bruce, Del Reeves, Roni Stoneman, Bruce Carroll, Robin Crowe, Dino, Shotgun Red, Johnny Lee @ 'Gilleys', Sarah Darling, Caroline Kole, Vince Gill, Trace Adkins, Brent Lamb, Russ Taff and 'The Animal Band' .
Also sang, played guitar, pedal steel guitar on above jingles, T.V. shows, etc and has made solo appearances on The Grand Ole Opry and Ryman Auditorium. His favorite band of all time is "The Byrds".
---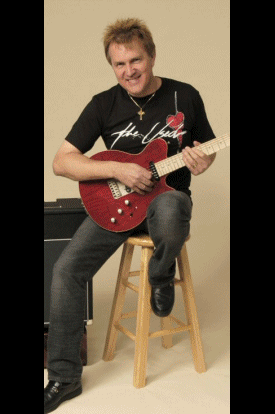 A Visual History..
---
[Home]
[Bender Reviews]
[Dans Photo Gallery]
---